SHADOW FARMING
Jack Boyce plays email ping pong with The Invisible Man.
February. 1. 2021: I receive an email from Colin:
'Jack, have some new records coming out, trying to write a piece for my website and struggling. If I send you over the music can you email me some questions?'
As a fan of Colin's work, I am delighted at this proposition. The music soon arrives and I spend a few days immersing myself in new music from Colin, both solo and with Deux Filles.
Exactly one week later I email Colin my first question, he is quick to reply and so begins our game of email ping pong:
I'd like to start with Deux Filles as I know there is already a single out (Take it Easy). You formed Deux Filles with Simon Fisher Turner back in the nineteen-eighties, adopting the personas of two French girls, Gemini and Claudine. Can you tell me how it was that you decided to present the music this way?
It was an attempt to remove our egos from the music, to step outside ourselves. Simon and Colin aren't on the records, Claudine and Gemini make the music and we are still getting to know them.
You must know them by now, they have been together for forty years!
True, but they have only made four albums in all that time. That's another thing that's nice about it, when we come to do a new record we quickly slip into Deux Filles mode and it feels comfortable…like an old jumper. Simon and I both find making music exciting…thrilling at times and that's what drives us. Also, we know each other well enough to be able to say when we don't like something…it gets changed and we are soon back on track. It's alchemy really, our combined efforts always come out sounding just like Deux Filles, magic in a way. If one of us tried to make a Deux Filles album on our own it wouldn't sound anything like them.
So, when you came to make the album 'Shadow Farming' did you go back and listen to Deux Filles back catalogue in order to get into Deux Filles heads?
Funnily enough I did this time, I even read the story on the back of the first album (Silence & Wisdom), like an actor researching a part. I don't know that it made any difference when it came to making the record…maybe. There are two quite distinctive sides to Shadow Farming. Side one of the vinyl is subtitled 'Intuition' and I would say that that is closer to Silence and Wisdom in its vibe, Side two is darker and perhaps more like the music on Double Happiness.
Shadow Farming will be issued on vinyl by Glass Modern, late May/June.
A taster track 'Take it Easy' is available to stream on Bandcamp: https://glassmodern.bandcamp.com/album/take-it-easy
Take it Easy video here: https://www.youtube.com/watch?v=dwHofJXuQUk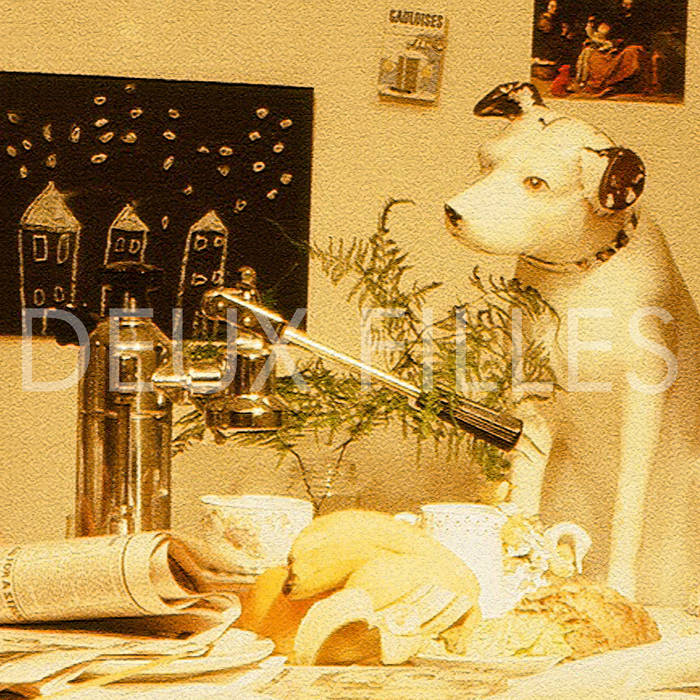 Let's talk about your latest solo work, you told me you plan to issue the track Guardian Angel ahead of a new album 'Ode Trip'. It is a stunning song and a very interesting recording. How did it come about?
I have always seen myself as a songwriter in the old-fashioned sense. It is ironic that many people who are less familiar with my work seem to think of me as a studio guy, a sound manipulator and I do have that side too. A couple of years back I made an EP called Shire. For that, I returned to the way I used to work, writing the songs on the guitar or the harmonium or just in my head, spending time getting the lyrics right, leaving nothing to do but record the song in the studio. I was happy with the results. When my friend John Porter (producer of Smiths/BB King/Buddy Guy and many others) told me that he spent an entire summer with only Shire and a Charlie Parker record on repeat I felt vindicated and have stuck to this method ever since. So, Guardian Angel comes from that school of thought, I wrote it all on the acoustic guitar, I was careful that the lyric got across what I was trying to say. Lived with it in my head long before I played a note into a microphone.
Yes, that comes across, but there is also a fair amount of studio craft there. The use of the Mellotron for example.
I know, I can't help myself! Such a strange instrument, it uses tapes to play the sounds of the instruments, these tapes are triggered by pressing the keys on the keyboard. It was really designed as a cheap way of getting orchestral sounds onto a recording before the days of digital sampling but what I liked about it was the funny, mechanical quirks. If you hold a note down for too long the tape runs out and it grinds to a holt. I used all of that to give an 'unrealness' to Guardian Angel, quite deliberately.
One thing that baffles many of us regarding your solo work is your lack of public profile. Your records have a quality that is just not heard from other so called independent artists and yet you always seem to be 'under the radar'. Do you have a theory as to why this is the case?
I think, in a way you have answered your own question Jack. I do not sound like an indie act and I certainly don't sound mainstream, I seem to fall through a crack, somewhere in-between. A case in point, someone wrote into Gideon Coe (a presenter on BBC Radio 6) asking him to play some of my solo records, he said he didn't know who I was and yet he had been playing Deux Filles a few days before. I feel like The Invisible Man.
When can we expect to see Guardian Angel and the album Ode Trip issued?
Guardian Angel will be issued digitally in April, the album will go out on CD later, not sure yet as I will be working around the release date for Deux Filles..